We are amongst leading supplier and dealer of Medical Equipments and accessories. Different Medical equipment incorporates Oxygen Concentrators, BIPAP , CPAP, Patient monitors, Ventilator machines, ECG Machines Etc. Our Different medical equipment accessories includes 7.5 METER NASAL CANNULA, COMFORTGEL FULL MASK CUSHION, COMFORTGEL-BLUE FULL FACE MASK, CPAP-BIPAP FILTER, CPAP-BIPAP HOSE PIPE 22mm, DISPOSABLE PERFORMATRACK FULL FACE MASK, DREAMSTATION HOSE PIPE 15mm, DREAMWEAR HEADGEAR, DREAMWEAR NASAL MASK, everflow OXYGEN CONNECTOR, everflow OXYGEN FILTER, everflow-oxygen OXYGEN HUMIDIFIER BOTTLE. We offer top quality products to our client as most reasonable cost. We also offer medical equipments on rent. Please call us for more information on 8400600800 or 8400700500
What is an Oxygen Concentrator?
Oxygen Concentrator:
Oxygen concentrators are medical devices that assist people who have a low level of oxygen in their blood. They are powered by plugging the device into an electrical outlet or by using a battery. If a battery is used, then it will need to be charged by plugging it into an electrical outlet. Most concentrators also come with an adapter so you can use the device while you drive.An oxygen concentrator receives air, purifies it, and then distributes the newly formed air. Before it goes into the concentrator, air is made up of 80 percent nitrogen and 20 percent oxygen. An oxygen concentrator uses that air then it comes out as 90 to 95 percent pure oxygen and 5 to 10 percent nitrogen. The nitrogen is separated to give the patient the highest dose of oxygen possible, as it is difficult to get that percentage of oxygen without the help of a medical device.
Where to Buy Oxygen Concentrator online in lucknow at low price?
If you are looking for an Oxygen Concentrator SSB Medicare is an ideal shop where you can get the best solution for your OC needs at most affordable cost both online and offline also they deliver Oxygen concentrator in Lucknow and other parts of India. SSB medicare has its head office in lucknow. Our different oxygen concentrator include oxygen concentrator everflow-oxygen, simply Go portable oxygen concentrator and simply go mini oxygen concentrator. If you are looking to buy oxygen concentrator online than SSB is the perfect place where you can buy the best equipment. And the best part about SSB is that it offers best after sales service to its clients at lowest cost. Apart from these it also offers equipment on rent that makes it much affordable for all. Also it offers refurbished and used equipments at lowest cost making them affordable for all. This manner if there is a need for oxygen concentrator SSB medicare is the most ideal place as it offers you the top class product and services at lowest cost.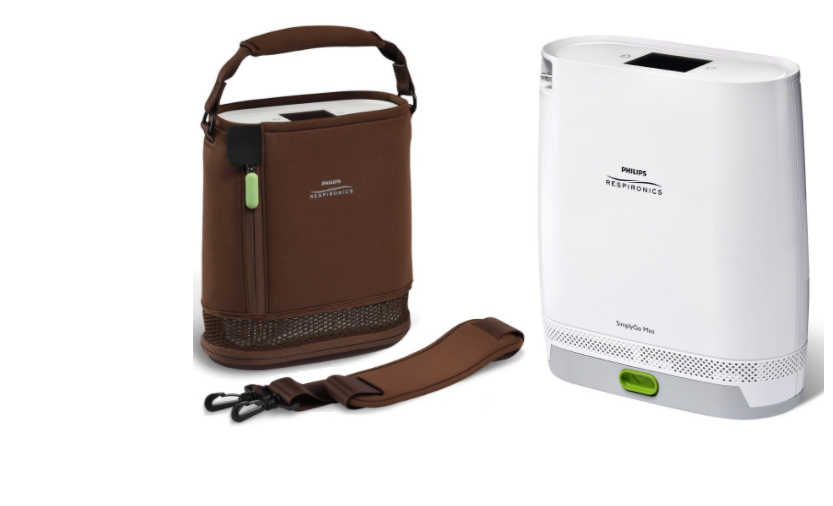 Simply Go Mini Portable Oxygen Concentrator.
The Philips Respironics SimplyGo Mini Portable Oxygen Concentrator is for remedy use by patients requiring high level of oxygen on a supplemental basis. It is compact, small and is fit for constant use at institution, home or while travelling. The Philips Respironics SimplyGo Mini Portable Oxygen Concentrator (POC) is intended to assist you by offering attractive features, light weight and genuine reliable quality that are in great demand by the patients. Philips Respironics, have gained reputation for structuring and building greatness into the entirety of items. Presently, with SimplyGo Mini, you can offer your patients the decision for greatness in lightweight versatile oxygen concentrators. Get this amazing product online or offline (With no cost EMI upto 12 months) through our exclusive Philips medical equipment store.
Specifications
Dimensions: 9.4 x 8.3 x 3.6 Inches with Standard Battery; 10.2 x 8.3 x 2.6 Inches with Extended Battery
Weight: 5 lbs Standard Battery; 6 lbs Extended Battery
Control Panel: Color Touch Screen LCD
Pulse Setting: 1-5
Power: Universal 100-240 VAC, 50/60 Hz, 2.0 A
Oxygen Concentration: 87 to 96% at All Settings
Sound Level: 43 dBA Typical at Setting 2
Operating Altitude: Up to 10,000 Feet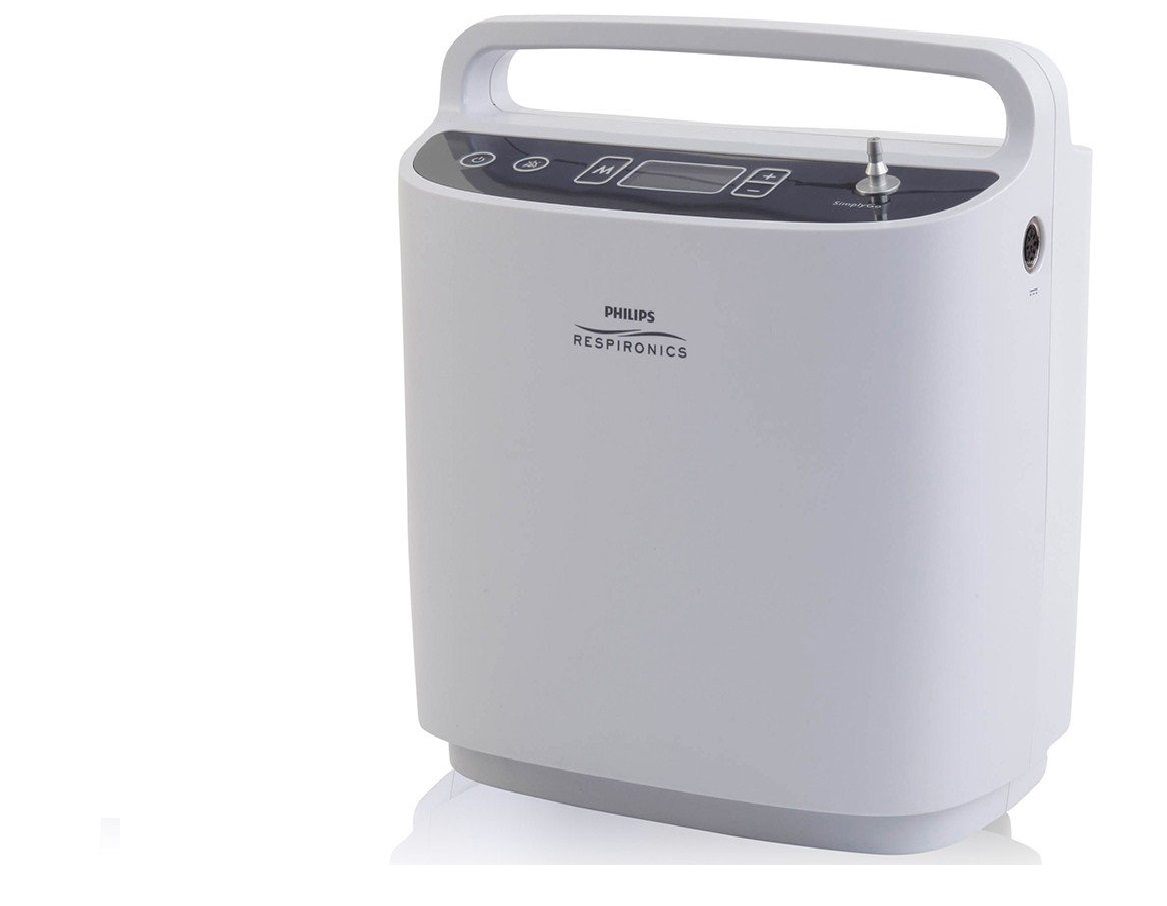 SIMPLY GO PORTABLE OXYGEN CONCENTRATOR
SIMPLY GO PORTABLE OXYGEN CONCENTRATOR, is amongst recent concentrator from the most renowned brand Philips, it is now available at SSB medicare pvt ltd. Your day by day oxygen therapy needs would now be able to be secured by SIMPLY GO PORTABLE OXYGEN CONCENTRATOR machine. Regardless of whether you are sitting at your home, workplace or you are travelling to somewhere else SimplyGo portable oxygen machine will be the ideal solution. Each SimplyGo incorporates a range of accessories which give versatile and durable. It is light weight (weighs nearly about 10 pounds) which makes it enough portable to carry it from one place to the other. This portable oxygen machine is available (With no cost EMI upto 12 months) at SSB Medicare Pvt Ltd.
Specifications
Oxygen concentrations: 87 to 96% at all settings
Pulse mode bolus size: 1=12 ml, 1.5=18 ml, 2=24 ml, 2.5=30 ml, 3=36 ml, 3.5=42 ml, 4=48 ml, 4.5=54 ml, 5=60 ml, 5.5=66 ml, 6=72 ml
Continuous flow settings: 0.5 LPM, 1 LPM, 1.5 LPM, 2 LPM
Sound level: ≤ 43 dB at pulse setting 2
Operating temperature 41° to 104° F (5° to 40° C)
Storage temperature: -4° to 140° F (-20° to 60° C) unit only
Altitude: Up to 10,000 ft. (3048 m)
Filtration: Internal bacteria filter
DC power: Input 11.5 to 16 VDC, 18 A max Output 19 VDC, 7.9 A max
AC power: Input 100 to 240 VAC, 50/60 Hz, 1.7 A max Output 19 VDC, 7.9 A max
Power consumption: 150W while charging, 120W while not charging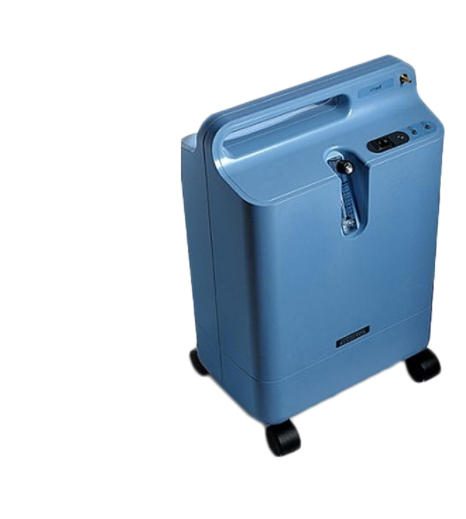 Philips Oxygen Concentrator everflo
Philips Oxygen Concentrator everflo is a 5L per minute hospital and home use oxygen concentrator. This Respironics EverFlo Oxygen Concentrator has been made with top quality components to cut down the costs of giving oxygen treatment while keeping up ease of use. Philips EverFlo oxygen concentrator is a reliable and financially savvy method of oxygen treatment. It is planned so that the general support cost is moderately low. It contains two filters, the inner filter which is disc that requires straightforward assessment during routine upkeep activities and an outside filter that can be changed in minutes. Its maintenance doesn't require any exceptional abilities or apparatuses. The gadget is lightweight and thus it is very simple to store and ship. This additionally lessens the possibility of any damage. The humidifier bottle stage is adaptable and can oblige containers of any style. It likewise has a recessed stream meter, which diminishes the possibility of unplanned breakage. The gadget is accessible with or without an oxygen purity indicator. oxygen purity indicator assesses ultrasonically the oxygen yield, demonstrating the purity. You can get this oxygen machine (With no cost EMI upto 12 months) at SSB Medicare Pvt Ltd.
Specifications
Input voltage: 120 VAC +/- 10%
Input frequency: 60hz
Average power consumption: 350 watts
Oxygen concentration (at 5lpm): 93% (+/- 3%)
Liter flow: 0.5 to 5 liters per minute
Weight: 31lbs (14kg)
Sound level: 45dBA typical
Dimensions: 23"H x 15"W x 9.5"D (584mm x 381mm x 241mm)
Required maintenance:Compressor intake filter: change every 2 years
OPI (Oxygen Percentage Indicator) alarm levels Low oxygen: 82%, very low oxygen: 70%
Operating temperature 55?F to 90?F (12?C to 32?C)
Storage/transport humidity: -30?F to 160?F (-34?C to 71?C) up to 95% relative humidity
Operating humidity: Up to 95% relative humidity
Outlet pressure: 5.5PSI
Operating altitude: 0 to 7,500; (0 to 2,286 m)
Oxygen Concentrator Accessories
At SSB Medicare Pvt ltd you can buy oxygen concentrator online of different types. Apart from oxygen concentrators we also offer accessories at low cost. Accessories like 7.5 Meter Nasal Cannula, everflo oxygen filter, everflo oxygen humidifier bottle, EverFlo Oxygen Concentrator available at our store at best price.You can also visit our store or you can order any of these equipment or accessories online at lowest cost. Following are some accessories offered by us:
7.5 Meter Nasal Cannula: It Is Used Where Little Amount Of Oxygen Is Required, It Is Compatible With All Types Of Oxygen Concentrators. You can buy 7.5 Meter Nasal Cannula at best price through our physical store, or order online.

everflo oxygen filter: You can use everflo oxygen filter with all Ever Flo OC machine, by using this with OC machine can increase the life of your device. Get everflo oxygen filter online at best price from ssb medicare.

everflo oxygen humidifier bottle: everflo oxygen humidifier bottle is used in oxygen concentrators. Oxygen formed through oxygen machine are passed through this humidifier bottle to maintain the humidity as the oxygen liberated through the machine is dry. You can buy everflo OXYGEN HUMIDIFIER BOTTLE at best price through our physical store, or order online.

EverFlo Oxygen Concentrator: It allows to use a humidifier with EverFlo oxygen Concentrator. You can buy EverFlo Oxygen Concentrator online at best price from SSB medicare Pvt. Ltd.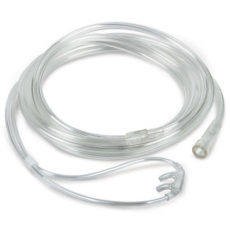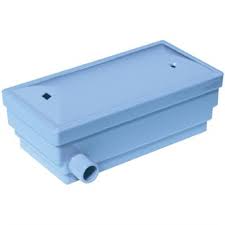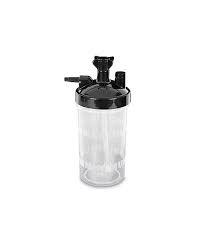 EVERFLO OXYGEN HUMIDIFIER BOTTLE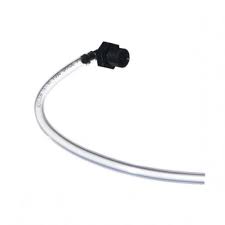 Contact Us
Shop No-2 U.G.F.F.I. Shopping Complex, 37 Cantt Road , Burlington Chauraha, Lucknow – 226002
ssbmedicare@gmail.com
+91 8400-600-800
Your message has been sent. Thank you!